Your Guide To Knowing When Your Houston AC Unit Needs Maintenance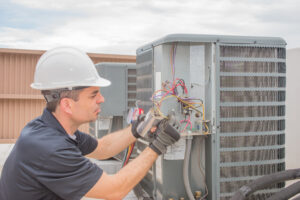 What do Houstonians fear the most? It is their air conditioner breaking down! And there is a good reason for this! Losing the refreshing coolness can be brutal when humidity and temperatures are in the 90's or higher. However, air conditioners do break down, and then they do, you have to be fully prepared. The two major kinds of AC outages are your AC dying due to a mechanical problem or age or because your electricity has gone out.
What To Do Whenever Your AC Breaks Down & Your Electricity Is Out?
Assuming that your house was cool when your AC broke down, you should do the following:
Darken Your House By Closing All Of The Blinds Or Curtains.
You will ideally have blackout curtains on the window to help with blocking out the heat from the sun. If not, then cover up windows as best as possible.
Leave Your Windows Closed As Long As You Can.
If you have cool air inside of your house already, but you can bet that it is less humid compared to outside. For as long as possible, keep your windows shut and blinds drawn. Depending on how long you are without electricity, you might need to eventually open them. However, keep the drier air that is inside your house as long as you possibly can.
Rinse A Sheet Or Towel Out In Cold Water And Then Put It Over Yourself As You Are Sleeping.
Wear cotton. Put on the loosest, coolest cotton clothes that you own. Cool down as fast as you can. If you feel really hot, cool your pulse points down using ice or cold water. Those points include behind the knees, ankles, elbows, groin, neck, and wrists. Just be sure you don't leave your freezer open for a long time. You want all of your frozen foods to last for as long as possible.
Keep Away From Everybody.
That sounds very antisocial. However, you will be a lot cooler if you are not sleeping or sitting next to someone. Besides need, there is a reason, the people have slept together in the same bd before there was central heating – which was to generate heat. So keep your distance, if you would like to stay cool.
Stay Hydrated.
That means you need to drink plenty of water. There are other adult beverages and liquid that are not hydrated. Whenever you are hot, you end up losing a lot of hydration from sweating. It needs to be replenished.
Sleep On Your Floor.
There are file floors on many houses in Houston. Although it is not comfortable, it is cool and tiles do not retain heat the way a mattress does. Keep in mind that hot air rises. Stay on your first floor, if you have a second one. When it is time to go to bed, think about sleeping on your floor instead of the top bunk. That is one time your kids won't be arguing about who should sleep on top.
Take Off Your Socks & Shoes.
Keep all of your pulse points free of any warm and tight clothing.
Eat Cold Foods.
Especially since they are melting anyway in your freeze. Take the ice cream and popsicles out and enjoy them while you still can.
Open Your Windows.
You will eventually have to open your windows if the outage does last long enough. Get as much cross ventilation as you can when you do this. However, if your house faces the west or south, and it is in the middle of the afternoon unless there is a refreshing breeze that is blowing through, it is usually best to keep your front windows covered up. The sun will warm your house a lot more efficient than the breeze can cool it down.
Go someplace where there is electricity or go swimming.
Outages are often localized. Just because there is no power in your neighborhood, the AC at the library or mall across town might be working just fine. During the hottest part of the day, find someplace to cool off, like a local Houston pool.
From hurricanes to car crashes to blown transformers to unexpected lightning storms, those who live in Houston seem like they lose electricity several times per life at least. This is why it is so important having the following items handy.
Bottled water. If possible, store it in a dark, cool place (64 ounces for each member of your household. That will get you through the day. Also make sure you have water for your pets.)
Battery-operated fans
Clean towels
Flashlights
Battery-operated weather radio to stay current on weather conditions.
One last note on the Houston area's bad weather. There are some unexpected outages. However, when there is a storm, the power can go out any time. Make sure your phone stay charged. Allow your battery to go down to 10% means if the electricity goes out then your phone will die right away.
You will lose your phone power eventually, but if it is fully charged when the power goes out, it will last much longer. That is important since you can keep informed on when the electricity is going to be restored.
What To Do When Your AC Dies Or It Needs to Be Replaced?
If your air conditioner dies due to age or a mechanical issue, here at AC Man of Houston is here to help and has 24-hour AC technicians on call. So how can you tell if your air conditioning unit is about to die? Typically, there are signs that will clue you in.
The Temperature Varies From One Room To The Next
Whenever you can detect a noticeable difference in temperature by simply walking into a different room, then your air conditioner will start to lose its ability to evenly distribute cool throughout your house. The air filters might be clogged or dirty, but it also can signal that the motor on the AC unit is not as efficient and is set to die.
The AC Is Very Noisy
If the AC unit in your house is very noisy, then most likely it is working harder than it is supposed to be to keep cold air circulating all through your house. AC units that are about to die with frequently make a squealing or clanging sound whenever they are running. That might mean the compressor is about to die, the ban blades have worn out, or there are some loose parts inside of the unit. No matter what the reason is for your air conditioner is so loud, there is a high chance it is about to die.
The AC Will Not Turn Off
If your air conditioner continues to run, but your home is not getting very cool, then the motor on the unit might be becoming overworked and is about to break down. That can signal that there is a refrigerant leak or problem with the compressor. Also, the system might get clogged with dirt that is blowing inside, and that might be causing the AC unit to not be as efficient as it should be. If the temperature inside your home is not getting as cool as the temperature that is set on your thermostat, then you might need to replace your air conditioner.
The Air Inside Your Home Is Dusty And Dry
Another symptom of a dying air condition is it not being able to filter impurities like carbon monoxide, mold, and dust out of the air. That might not only be a sign that your air conditioner is dying, but might affect your health as well. If you have a dry throat or notice an unusually high amount of dust on the furniture, you definitely should have your air conditioner looked at by an AC technician as soon as you can.
The AC Unit Needs To Be Repaired Frequently
If your air conditioner has to be repaired frequently, then investing in a new one is probably a good idea. At some point, it won't be worth it to keep paying for repairs, and your AC technician can inform you whether or not you need to get a new AC unit.
The AC Unit Is Old
If you have an air conditioner that is over 12 years old, then it might be time to get it replaced. However, run time is a lot more important than the age of the unit. That is especially true in Houston, where a majority of air conditioners run all year long. The bottom line is you need to monitor your AC unit's condition, so you would be surprised if it breaks down.
Do You Need A New AC Unit?
At some point where the AC unit will finally die a natural death. Therefore, you need to be prepared to replace it, especially during those long dog days of summer in Houston. Our highly experienced and trained technicians will inform you of what your options are. If you do need to get a new air conditioner, then AC Man of Houston has affordable financing options available for you.
Air Conditioning Maintenance Services
There are trained Comfort Specialists on our staff who are here to help you achieve a comfortable home with colling services – from superior equipment, design, installation, maintenance, and customer service. AC Man of Houston will assist you with improving your home's efficiency by providing you with prompt and precise service. AC Man of Houston technicians can service all brands. We are one of the most trustworthy air conditioning repair companies in Houston. The commitment of our staff to customers and our expertise is what sets us apart in our field and in the Houston area. Combined with our quality products and technical services, we guarantee to provide the best customer service experience to you.
Please feel free to give us a call or contact us today! Also, we invite you to visit our blog for more related articles.