10 Qualities To Look For In A Professional HVAC Technician In Houston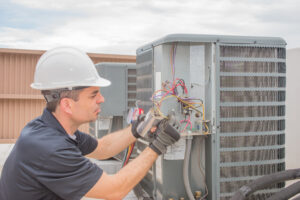 When you decide to contact an HVAC technician, it involves a lot more than just choosing a well-known company or brand in order to get this job done. It is also important that you have chosen a company that has technicians onboard who will show respect to your home and to you, while they go about completing their tasks. Below is a list of the 10 qualities that all HVAC technicians should possess.
1. Punctuality
Regardless of which HVAC company you have chosen, they should provide you with an estimate on the time you can expect them to arrive, which should typically be in a 1 to 2-hour window. The technician should arrive at your home within this time-frame. In most cases, you will be able to learn more about the reputation of the company when they arrive on time and complete the task at hand as quickly as they can.
2. Appearance
When the technician arrives their appearance should be presentable. They should also be wearing a uniform that identifies the business that they work for. You should also be able to see the technician's nametag.
3. Preparedness
There is not much worse than having to wait for an HVAC technician, and when they do arrive they do not have the necessary tools or equipment required to complete the job. For example, if your unit needs parts, it is standard procedure that these would have been ordered before they arrive on the job.
4. Boot Covers
Due to the fact that the technician may be walking in and out of your home while conducting maintenance or repairs on your HVAC unit, they should be wearing protective boot covers in order to protect your floors and your carpets. If they are not wearing boot covers, they should at least be wearing vinyl runners.
5. Friendly Demeanor
The HVAC technician needs to be friendly and you should feel comfortable asking the tech about any concerns that you may have. They should also answer you when you ask them a question, and when possible make eye contact with you. The best technicians will not only answer all your questions but also give you knowledgeable advice on the best solution for your home.
6. A Clean Vehicle
While this point is not vital, the vehicle of the technician should also be clean and presentable which indicates that they take pride in and respect their line of work. After all, in most cases, the vehicle will bear the name of the business, which makes it important that they arrive in a presentable and clean vehicle.
7. Cleanup
Once the technician has completed the task, they should also ensure that your home is left in a similar condition to what it looked like before they started working on your HVAC system. This includes throwing away any garbage, packing away their tools, and making sure they have not left anything behind.
8. Knowledgeable
The technician that arrives for your HVAC service needs to be knowledgeable. This will become apparent in their abilities to explain the issues with the system or to let you know what repairs are required in an easy-to-understand manner.
9. Experience
While it is not much wrong with letting a person who has just recently qualified in this industry to conduct repairs or maintenance on your HVAC unit, they should be accompanied by another professional that has many years of experience within this industry.
10. Ability To Perform
The last quality that is important includes that the technician should have the skills to arrive at your home, establish the issue, and to provide you with an estimate associated with how long the job should take to complete.
The HVAC technicians undergo the necessary training in order to install, maintain, and repair AC units. However, their abilities to treat customers with respect and a demeanor that is friendly, along with displaying pride in the way they present themselves, is not something that can be taught while they undergo training.
Check out our blog for more related content. For more information on Houston HVAC services, contact AC Man Of Houston today by giving us a call. Contact us today for any questions or concerns.